A section of Downtown Cleveland has been turned into a movie set!  Columbia Pictures is shooting a chase sequence for use in the 2007 Spiderman 3 Movie.  This shoot involved a second unit film crew, so none of the principal actors were in town, but there was a stuntman dressed as Spiderman for many of the scenes. 
Since I work near downtown, I hiked over to the filming area during lunch and shot some photos of the filming.  Enjoy!
The Spiderman story takes place in New York City, so, Cleveland's East 9th Street had to be turned into New York City's West 9th Street for the filming.  Here are some of the transformations that took place.  First … they brought in movie stunt cars:
Then, they turned the old, empty Cleveland Trust Building into a "First American Savings" bank.
Plus they did all other kinds of changes, that, if you were from Cleveland, you would quickly recognize.  Here's a fake newstand with placards of "The Daily Bugle".  That's the newspaper that Peter Parker (Spiderman) works for as a photographer. 
In the sequence being filmed, the villian, "Sandman" (a shape-shifting man made of sand), steals an armored truck and proceeds to drive recklessly through Manhattan with Spiderman in hot pursuit.  Here is the armored truck used.  Note the "sand" in the driver's area.  It actually was something like a wood or cardboard "box" painted like sand so that a stunt driver could remain hidden underneath while driving!
This is a scene from part of the chase in which a car goes flying in the air, spinning, and crashes into another car.  Here the car is suspended in air by wires, and spun around as the camera truck approaches. 
Here's some other wreckage from one of the crash sequences they filmed:
And, of course, here's Spiderman!  Here he is posing with a group of Cleveland fans.  Again, this isn't Tobey McGuire … just a stuntman.  But still … it's a HOLLYWOOD stuntman, dressed in the actual Spiderman costume that will end up on film!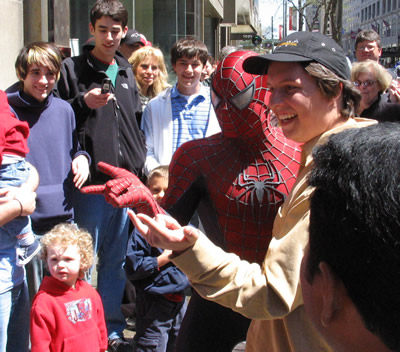 All in all … the crew took about 2 weeks to film a sequence that will only last a few seconds in the final film! It upset Cleveland traffic, but we're sure it will be work seeing!
Here are links to more photos from the filming of Spiderman 3 Movie in Cleveland.  These photos are from The Plain Dealer, Ohio's largest newspaper.  The photos are out on their website, Cleveland.com.  (Each link opens in a new window.)
And, you can also visit the official Spiderman 3 Movie Website to see the trailer for the May 2007 film.  Some of the scenes filmed in Cleveland are in the trailer!