Merry Christmas, er, I mean, Happy Easter everyone!
And so it began… starting on Wednesday evening.  On Tuesday, April 3, Cleveland Hopkins International Airport (the "official" weather reporting location for Cleveland) reported a record high temperature of 80 degrees F.
On Wednesday, temperatures fell throughout the day into the 30's.  By Wednesday evening, it was snowing.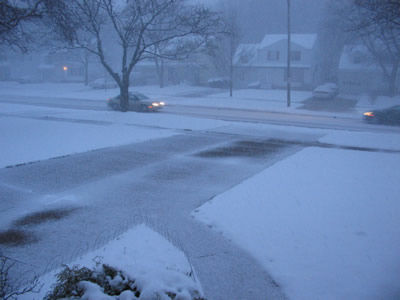 Twenty-four hours later, it was still snowing.  Here is the same view as above one day later:
This picture was taken Easter Sunday. It took us an hour and forty-five minutes to clear the driveway.
God bless David for shoveling the sidewalk to the back yard, so that I could get to the bird feeder in the back yard!
I decided to fill the bird feeder in the back yard.  Here I am trudging back to the garage.  The snow was up over my knees!!
Look carefully…
A squirrel!!!
The peanuts had been covered over by fresh snowfall.  This squirrel tunneled his/her way through to get to a buried treasure.
This is the view of the back yard:
 
 
I think they're goners… 🙁
That was our cold and snowy Easter of 2007!